Paintstop is a disposable air filter media, manufactured from bonded continuous monofilament glass fibres to create a high particulate holding wall whilst allowing low airflow resistance. The matrix of fibres in the media exhibits a progressive increase in density through the depth of the material towards the exit side of the filter but also accompanied by a progressive decrease in the diameter of the fibres too, giving it an excellent ratio between holding capacity and airflow rate.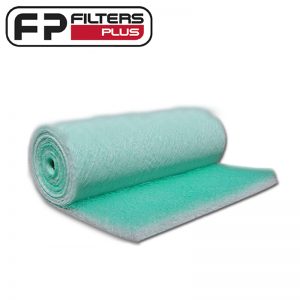 What is Paintstop used for?
Well, it's in the name. The primary application of paintstop is the automotive spray booth industry as the media excels at capturing paint particles dispersed in the air and permeates the full width of the media without clogging. The media is very versatile and can be used in many other applications too like food processing, chemical labs, industrial cabinet pressurisation, workshops and more.
Flexibility of Paintstop
Paintstop is such a versatile media that it is often used by industries like Agriculture, Electrical, Marine, Locomotives, Industrial and Mining. Available in various widths from 500mm to 2000mm and coming in rolls of 20M roll lengths you can cut and shape the media to fit almost any application, giving you flexibility when designing your air filter systems.
Buy Paintstop Today
Paintstop Specifications
Thickness: 60mm
Weight: 240g Per Square Meter
Fibre Diameter: 28 – 33 Microns
Rated Air Flow: 0.65 Cubic Metres a second
Initial Airflow Resistance: <31Pa
Final Airflow Resistance: 250 Pa
Average Areestance (Synthetic Dust): >69%
Nominal Dust Holding Capacity: 650g Per Square Meter
International Specifications: Conforms to BS EN779 1993 / EUROVENT 4/5
Paintstop by Camfil
Camfil is a global leader in industrial filtration technologies servicing industries like food production, Rail, Hospitals, Factory Dust collection and so much more. Specialising in air pollution control Camfil has the knowledge, experience and expertise to design the best filter for any application. We stock a wide range of Camfil products but if you want a quote on anything that you can't find on our website, contact us!